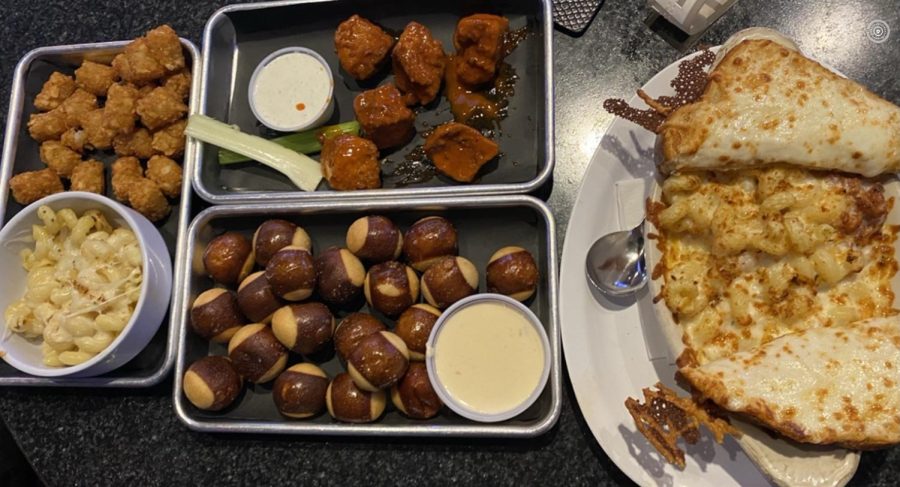 Local restaurants are an important part of Omaha's culture. One of these local restaurants that comes to mind immediately is The Good Life.The Good Life is a small restaurant chain based in Omaha, Nebraska. They serve food such as wings, burgers, pizza, drinks, appetizers and other typical bar food. They have reasonable prices for the food they serve. Interested, I set out to try their food for myself.
When I went to The Good Life, it was a Sunday night, and they had multiple NFL games on the TVs that were on almost every wall of the restaurant. Because of the football games, they were extremely busy, but even with the bustle of the football games, the staff was able to stay on top of taking orders.
As an appetizer, I got the pretzel bites and queso. These were by far my favorite thing I ordered. The queso was warmed up, and the pretzels were some of the best I've ever had. They were soft and had the right amount of salt. Some other appetizers offered were chips and dip, cheese curds, waffle fries, and nachos.
As my entrée, I ordered the Gouda Mac N Cheese. It typically comes with onions, tomatoes, and bacon on top. You also have the option to add lobster. I chose to get just bacon on mine, and it was amazing. The Mac N Cheese came with bread crumbs on top, and had a fantastic cheese sauce. There was a lot more bacon on the pasta than I had expected, and all of it was cooked perfectly. I thought the Mac N Cheese was really good, but it didn't quite live up to the pretzel bites. Other entrees offered were things like pizza, burgers, and sandwiches.
I also ordered the boneless wings. I got a Medium Buffalo sauce on them. Overall, the wings were what I was most disappointed by. Buffalo wings are one of my favorite foods, but the Good Life wings did not impress me. I will say that the Buffalo sauce was amazing, but it was the texture of the chicken that ruined the wings for me. The chicken was a very rough texture and was hard to chew through, which made the wings unappetizing.
The atmosphere of the restaurant was very welcoming. There were TVs on almost every wall with all kinds of sports playing. The staff was friendly. I left feeling satisfied. I would recommend the restaurant to anyone who enjoys watching sports, because there were so many games on.
Overall, I would give my experience at The Good Life a 4/5 stars. Overall, I was most impressed by the pretzel bites and my waitress. I was least impressed by the wings. I would recommend this restaurant for anyone who likes to eat our during football games.