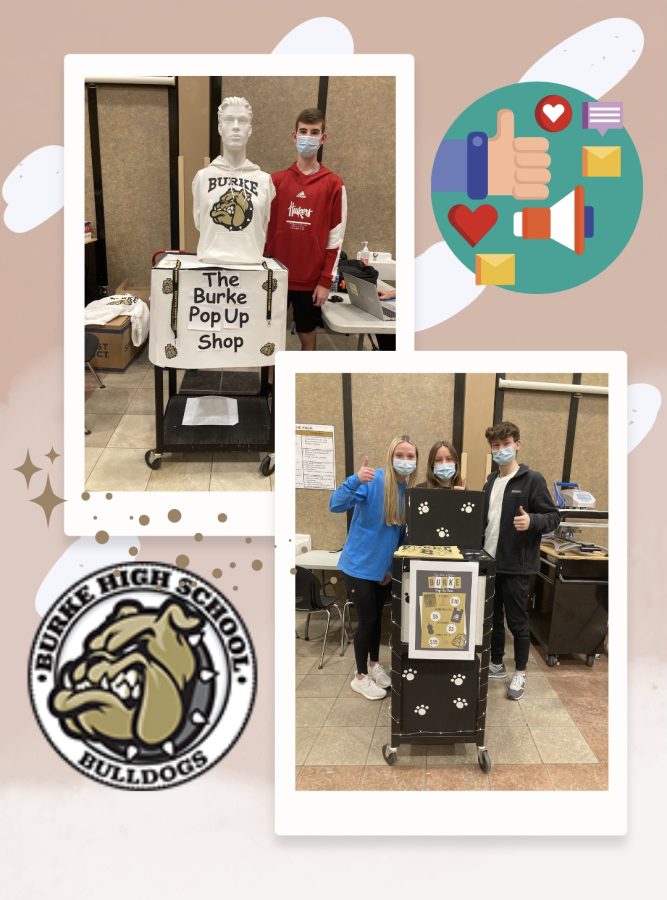 Yannick
Feb. 7 to 16, a Burke students opened a pop-up store in their Honors Marketing 3-4 class with help from their teacher, Mr. Dalton. This pop-up store occurred during 5th block lunch during the two weeks. Senior Kira Shaffar  worked on one of the two pop-up shops.
"He [Mr. Dalton] kind of came up with this as like our third quarter summative project instead of like creating just a paper-writing project. He wanted us to be a lot more hands on," Shaffar said.
Mr. Dalton let his students decide what kind of products they want to design and offer, which was appreciated by his students. The two pop-up shops sold their products at the same time, trying to win over the most customers.
"We kind of have a little competition going between our two groups to see who can win," Shaffar said.
The goal was to raise funds for Burke DECA, which is a marketing organization that goes to competitions that involve solving problems in teams and other marketing areas in general. The winner of this challenge got an automatic 4 for the assignment as a prize. Whoever made the most money, won.
After choosing the products, Kira and her group went online and found a company that personalizes keychains, T-Shirts and phone wallets. Mr. Dalton used DECA funds to order the products and all the money they made goes back into the same account.
The group liked the idea of creating a little store at Burke because it spreads school spirit and the feedback they've received so far is positive as well.
After these two weeks of the pop-up, there is possibilities of opening a Burke apparel store all year round, depending on how well the smaller store does.