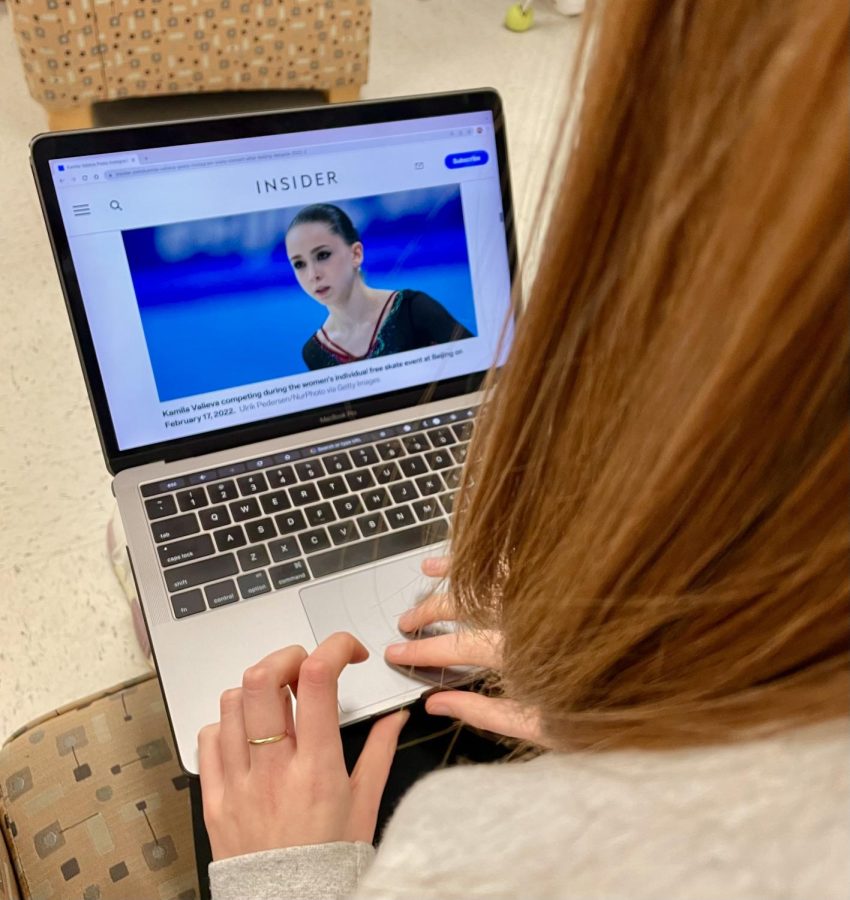 The 2022 Beijing Winter Olympics have come to end but the drama following Women's Ice Skating still lingers. More specifically, the story following 15-year-old Kamila Valieva, an ice-skater from the ROC (Russian Olympic Committee) and her positive drug test for trimetazidine, a substance banned by The World Anti-Doping Agency. Even after the news of the positive test, Kamila was allowed to skate in the Women's free skating and short program events.
I don't find many of the winter sports included in the Olympics that interesting, but I am always fascinated with ice skating. My mom and I followed along every night, listening to Tara Lipinkski, Johnny Weir, and Terry Gannon as they commentated on the countless talented skaters.
The 2022 Winter Olympics was Valieva's first time representing the ROC in the games. She currently holds a world record for women's short program, free skating, and total scores as well as being the second woman ever to land a quadruple toe loop.
When news came out about Kamila Valieva and her positive test for trimetazidine, I almost couldn't believe it. She was truly the shining star of Olympic skating, being the first woman to land a quadruple jump in the Olympics at only 15 and her scores that flew past her competitors. I was constantly blown away by her near perfection in every program and the scandal that quickly followed her made me really rethink everything I had seen from her.
The first news I saw was from The Washington Post's Instagram account. I didn't think much of it at first, but more and more news came out and it became hard to avoid. After hearing all the facts, it was easy to form my opinion that Valieva should have stayed suspended and not allowed to compete in her individual events.
But it soon came time for Women's single skating. Still feeling hesitant, I sat down with my mom, and we watched in anticipation for Valieva's turn. Lipinski and Weir had expressed their thoughts prior to her performance, saying they truly believed she shouldn't be allowed to skate while also expressing their sympathy towards the young skater being stuck in the media's harsh spotlight.
With all the pressure weighing her down, Valieva put out a devastating performance that landed her in 4th place. It was so hard to watch such a young skater go down like that, but I truly think the disappointment could have been avoided if she just was not allowed to skate. There were claims made that not allowing her to skate would have been too hard on her mentally but watching her fall again and again and ending up in a position nobody expected from her was harder.
It may not be surprising that this isn't the first case of misconduct from Russian figure skating. Over the years, the figure skating field has been taken over by Russian teenage girls coached by Eteri Tutberidze. Landing quadruple jumps and taking over the podium has become expected from these young girls. But there's always been rumors and claims floating around Tutberidze's methods for coaching. Her skaters have spoken openly about her abuse; puberty blockers, powder diets, daily weigh-ins, you name it. This coach wants her skaters young and wants them to stay that way until she decides to replace them when they reach the end of their "prime" skating age.
Following the news of Valieva being allowed to skate, many people through social media have brought to light comparisons between the young skater and Olympic sprinter Sha'Carri Richardson. Richardson was due to compete in the 100-meter race at the Tokyo Olympics this past summer but was put on a one-month suspension following a positive test for cannabis. Richardson even spoke out following Valieva's news asking for some clarification between the two.
"Can we get a solid answer on the difference of [Valieva's] situation and mine," Richardson wrote on Twitter. "My mother died and I can't run and was also favored to place top 3. The only difference I see is I'm a black young lady."
Like I've mentioned, I've been following this whole scandal as much as I can, and I'd have to agree that I'd like some clarification on the matter. Sha'Carri mourned the loss of her mother and while grieving, indulged in the use of marijuana (a drug that is NOT performance enhancing but is prohibited-in-competition by the World Anti-Doping Agency), and was banned from competing in her event. Valieva was tested positive for a performance enhancing drug BEFORE the Olympic Games and was able to compete in every single one of her events. Looking at the two situations side by side and all possible factors that may have gone into everything, it makes me a bit uneasy on how these decisions were made.
After looking through the whole situation, researching the ROC's coaching background, and listening to others' opinions, mine still stands. Kamila Valieva should not have been allowed to compete in her individual events. And while the decision is still pending, I also believe the ROC should not receive their gold medals for the team skating event as they had Valieva compete during that as well. The whole situation is messy and so, so complicated, but putting everything into consideration, I hold my position on the matter.