Halloween continued: The Shadow's Edge offers Murphy a lifelong Halloween expirence
During the month of November, junior Aiden Murphy is cleaning up his haunted house, The Shadow's Edge. The Shadow's Edge is located in front of Mangelson's and has been around for 14 seasons.  This local haunt is owned by his father, Scott, and is something Murphy has been a part of since he was young. At The Shadow's Edge, he works as security, construction, and occasionally an actor. He spends most of his free time dedicated to the haunt putting in effort and passion to creating a new and innovative haunt. "The past season was great with many customers and overall seems to be successful," Murphy said. 
One of Murphy's character is called Jedidiah, where he plays a stereotypical southern character in the chainsaw room at his haunt. Jedidiah bring numerous scares and even has made customers drop to the floor. Murphy once pulled an animal skin across with a rope attached, while playing Jedidiah hiding with a chainsaw, and sliding across the ground making the customer fall. Murphy also plays a clown character called Cotton Candy, where he entertains the guests of his haunt while waiting in line, running around with a chainsaw scaring and causing chaos. All of his characters are different and meant to alter the patron's senses. "I'll move slow when you're looking and fast when you're not just to mess with you," Murphy said.  
This past season has been successful according to Murphy, with many guests and lots of good scares. This season, they came back after a two-year absence with a scare cam that posted photos on the haunts Facebook showing the different reactions and scares they get. They began tearing down November 1st and finished the following week, ending the Halloween season with heavy hearts. The actors and staff of The Shadow's Edge celebrate the conclusion of the season with a trip to Pizza Ranch and a raffle, giving out prizes and concluding their season. With the conclusion of the season Murphy is excited to see how the haunt will grow and improve in the following years. "It's nice to have less stress, but I'm definitely going to miss it until next year" Murphy said.  
About the Writer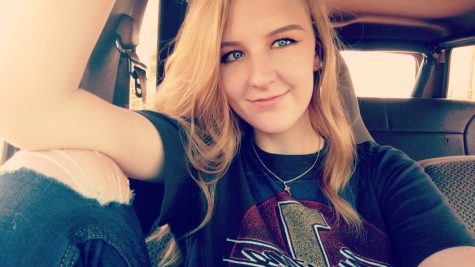 Grace Martis, Newspaper
Hi :) my name is Grace and I'm a senior at Burke. This is my first year of newspaper. I love fall, Halloween, and my cats.