Harris Hits 1000
4 years. 5 offers. 79 games. 1000 points. Burke High's own senior Aanaya Harris recently surpassed 1000 points during the girls basketball game against Millard West. Her teammates, fans, and coaches were filled with anticipation leading up to the big moment. Once Harris went up for the shot, she knew she made history.
"All of the parents and teammates were cheering," Harris said. "I feel like every time we get a hype moment we play with more efficiency."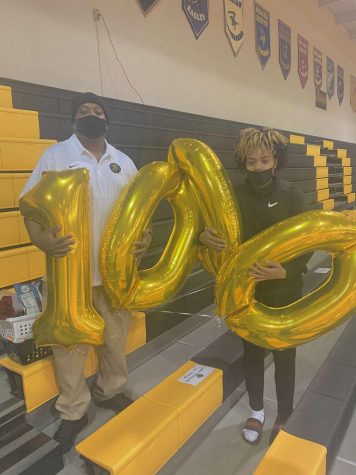 Due to COVID precautions, the gym had a limited occupancy. That didn't stop the crowd from giving Harris the celebration she deserved. Parents, teachers, and teammates were brought to their feet and filled the room with praise.
"Everyone was super excited for Aanaya," senior Paige Davison said. "They stopped the game and made an announcement for her and brought out big balloons that said 1000. That's a big accomplishment to have."
Even after reaching 1000 points, Harris didn't stop there. She went on to score 5 more points against the Wildcats. Making that 8 of the teams 37 points.
"I felt like even though I achieved a big goal I've been working for, I couldn't take my foot off the pedal," Harris said. "I have to keep scoring more points to help lead my team to state."
Harris still had more to prove. Only 6 days later, she broke the school girls basketball record for most points scored in a players career. Obviously, these major accomplishments didn't come from a lack of hard work. Harris picked up her first basketball at the age of 5.
"I started playing when I was in kindergarten, and it helped me develop my skills early," Harris said. "It gave me time to correct the skills I wasn't that good at. I kind of got a look on how the game goes early on."
Her hard work and dedication truly showed when she received 5 offers prior to her senior year. Her first offer came from Xavier University in July of 2019.  California Riverside, University of Missouri Kansas City, Western Kentucky University and University of Nebraska Omaha were also knocking down her door. Although after careful consideration, Harris went with her first offer. She committed to Xavier in April of 2020.
"They told me there was only one more spot left, so I decided to take it before I lost the opportunity," Harris said. "They were my favorite school so far and the coaching staff made me feel welcomed. I felt like I was already close to them, and I barely knew them."
There's no question that Harris will leave an impact on Burke High School.
"The one thing she has here now is a legacy," Coach Howard said. "She has something that is all hers and that will be hers for the very foreseeable future. I don't think she gets enough love in the community for what she did here."