Students & Teachers Health at Risk as OPS Reopens Schools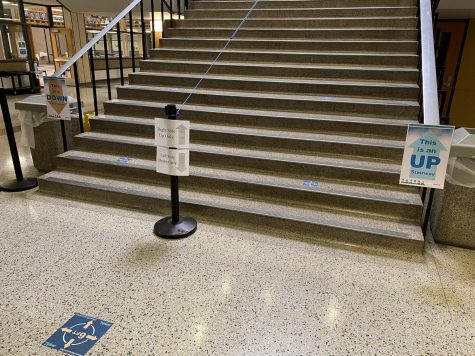 COVID-19 cases are at a record high in Nebraska, specifically in Douglas County, where according to the Department of Health and Human Services, the state case total on Oct. 2 was reported to be 46,977 and in Douglas county there were 17,366 cases.
Rising COVID-19 rates due to extreme exposure and rapid diffusion in Nebraska has led to a major topic of discussion in our nation; Is going back to school really safe?
Omaha Public Schools (OPS) is planning to go back in session after being remote for the first quarter of the school year. High school classes will start on tomorrow with the 3:2 model. Students with the last names A-K will be attending Monday and Tuesday and students with the last names L-Z will be attending Thursday and Friday and alternating every other Wednesday, with the option for students to stay remote as well.
I, along with many other students, feel that going back to school brings lots of uncertainty, stress and fear for our well-being and the well-being of others around us. Teachers, in specific, are individuals who have been impacted very drastically during this pandemic. No teacher was ever prepared in college to instruct students both in-person and virtually.
As well as teachers, students have also dealt with copious amounts of stress of switching to a completely different learning atmosphere.
"The most challenging part of going back to school for me will be being around large groups of people. I understand Burke is taking precautions to maintain social distancing, but even with limited numbers of students in the building I can't picture us all fitting in the hallways during passing periods while staying a safe distance from each other," senior Laura Kirshenbaum said. "One thing that will definitely be a challenge with COVID is not being able to rely on a stand partner in orchestra to make sure I'm staying in tune."
The hallways of the schools are not going to be normal. Students are told to remain 6 feet from each other with masks over their mouth and nose, but are we even guaranteed that students will be following these procedures? Even with half capacity and around 500 students going online there is no way to be watching that students will be following these guidelines at all times.
Elkhorn (EPS) and Millard (MPS), 2 other main school districts in the Omaha area, have been back in school full-time since August. These school districts are much smaller than OPS. EPS with a little over 10,000 students, MPS with about 24,00 students, and OPS with over 53,000 students, being the largest district in Nebraska. Papillion and Bellevue, the 2 other smaller districts in the Omaha area, have been back full time since the beginning of the school year.
It has been difficult seeing parents from Millard and Elkhorn schools standing back and scoffing at our superintendent and questioning, "If we can go back, why can't you?" What they don't understand is that OPS students have stayed at home for a quarter and have stood aside and watched MPS and EPS students get to continue their fall sports season while we sit at home, protecting ourselves for the sake of others safety.
OPS students and staff remained at home for the quarter so we could keep our community healthy. We have done this to decrease risk, and increase well-being. Seeing their privilege during this situation has been heartbreaking for many, as we have been restricted for the sake of protecting others.
Not only has it been difficult to see students getting to enjoy the activities they take part in at school, it has been difficult adjusting to remote learning. Remote learning was introduced by our superintendent, Dr. Cheryl Logan, to decrease the amount of cases. Being remote has been challenging, but it has allowed students to safely learn from home, while being respectful of the health of others and decreasing the risks of COVID.
"I'm deciding to stay home, it's working very well for me. I think that going back to school just wouldn't be good for me at all," senior Alaina Forrest said. "I think it's not really safe to go back to school because I really don't think everyone will wear masks and social distance. I feel like social distancing at school is almost impossible, there's so many kids. For me, I haven't really had struggles staying home and doing online. I actually really have been enjoying it, but I know lots of people aren't like me and need to go back."
Many students have had struggled with online learning, but have recently adapted since it has become so normal for us with being at home for the past 3 months.
"I am returning to school. The choice was hard for me, but I ultimately decided that I really do learn best when I can be fully actively engaged and when teachers can have a better sense of where my classmates and I are at in our comprehension which I think has been the biggest challenge of online learning," Kirshenbaum said.
Remote learning has been difficult, but I think overall, it has been worth it. During this process of remote learning, I have not come in contact with anyone with COVID and have reduced the spread of COVID by staying at home and taking safe precautions such as wearing a mask.
Reopening OPS schools will only increase risk, which also means increasing the state case total. The concern of families should be a necessary factor being examined when it comes to going back to school. Maybe there are family members with pre-existing health conditions which puts them at a higher probability of catching COVID. These small decisions are affecting thousands of students and staff members in OPS, and myself and many other students hope that students and staff will make smart decisions while coming back to school.
Personally, I believe the decision to go back to school is threatening to not only students and staff, but to the community of Omaha. Douglas County recently reported that there have been 375 positive COVID cases just on Oct. 17. With Omaha, Douglas County recently reported that there have been 375 positive COVID cases just on Oct. 17. With students going back in person, cases will only rise, meaning more people being exposed to COVID, which also means more people at risk to catching it and an extendedwill most likely extend the mask mandate. I am not alone in my opinion.
"I think that right now going back to school is not a good decision," Kirshenbaum said. "Covid cases are rising quickly in Douglas county and across the nation, and I think now is the time to be doubling down on safety precautions rather than opening large gatherings of people back up."
About the Writers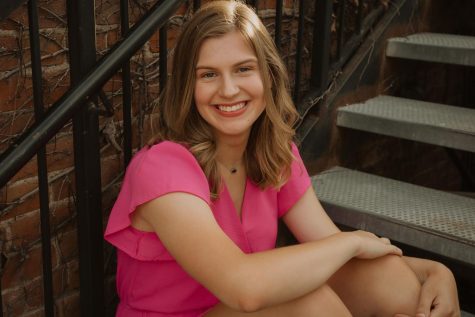 Lexie Worden, Social Media Editor
Hey, I am Lexie Worden. I am a senior at Omaha Burke High School. This is my third year being on the Digital Journalism staff. I am a co-leader of the...
Pacey Queen, Reporter
Hi! I'm Pacey Queen. I am currently a senior at Omaha Burke High School and this is my second year on the Digital Journalism staff. I love to play basketball...