The Dapper Doughnuts Review
Dapper Doughnuts is a mini doughnut shop that make their doughnuts fresh, they also sell coffee, milkshakes, refreshers and hot chocolate. Their shop is located off of 168th and Q, the store is small, very cute and they have some seating for people who want to eat their fresh doughnuts right away.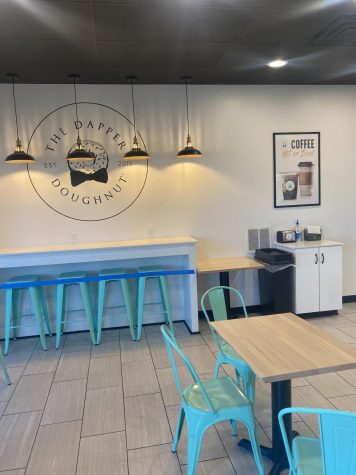 A downside is their hours during the weekday, which are 7am to 2pm. They have about 20 different topping to pick from. They have 6, 12, 24, 48 counts of doughnuts. When I got there the employees were very nice and all three of them greeted me right when I walked in. They gave me some cinnamon sugar doughnuts to try, which were very delicious. When you walk in there is a spot where you place your order, then you can go watch them make the fresh doughnuts through the clear glass that they have. They have someone making the doughnuts and someone putting the toppings on. I ended up ordering a 12 count and could pick 4 different toppings.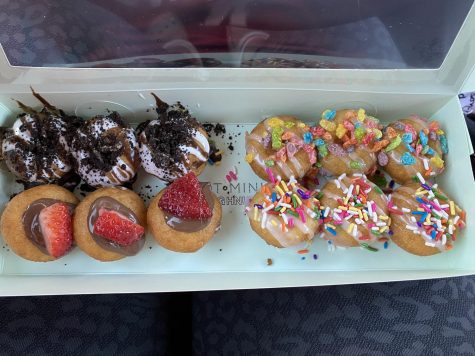 I chose Nutella dream, fruity pebbles, birthday cake and cookies and cream. They were all warm and doughy and very delicious. My personal favorite is the Nutella dream, it taste almost just like a chocolate strawberry. The 12 doughnuts where $7.99, which honestly I think is a pretty high price but you also get freshly made doughnuts that are made right in front of you. They were not very busy when I went at 8:30 on a weekday, I walked right in and ordered, since the doughnuts were fresh I did have to wait about five minutes while they made the doughnuts. So in conclusion even though it is pricey the doughnuts were very good, and the service was fast. I would definitely recommend this place to people and I would definitely go again.
Hours:
Monday-Friday : 7am-2pm
Saturday: 8am-2pm
Sunday: 8am-1pm