Boys basketball season brings adjustments, opportunities for young program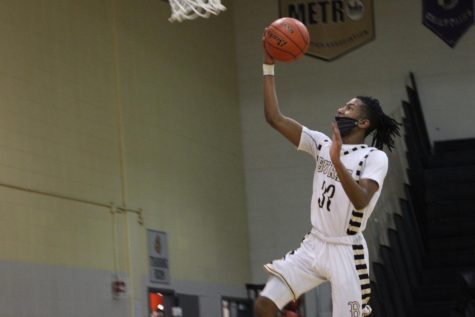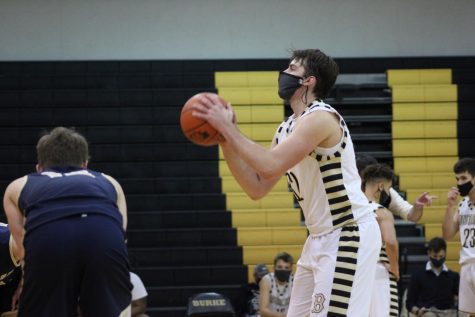 Burke basketball is looking a bit different this year- new coach, new guidelines, but also new opportunities. After the 2019-2020 season, the overall record was 10-13 and Coach Kevin Kobbs stepped down as the head coach, bringing in a new opportunity for Coach Cody Fisher.
Fisher, coming from Las Vegas, stepped in as the head coach in a new school, new state and a unique situation.
"This year has been weird because of everything with COVID," Fisher said. "But, it has been great because of all the kids and other coaches.  Everyone shows up every day ready to work and get better.  They have been an amazing group to work with."
Not only has Fisher adjusted to coaching a new team, but the boys have had to adjust to a new coach.
"It has been a learning experience," senior Sam Sorensen said. "We have learned a completely new philosophy both defensively and offensively, but I think it will be good for this program."
With new objectives and ideas being put into play, players are feeling a new sense of togetherness in the new program.
"Having a new coach has been beneficial to the team," senior Lukas Kocher said. "Our new coach brings the team together and that's something we've needed."
With COVID, there have been things that Coach Fisher and his staff have been able to work around. One of these precautions taken to continue the season is wearing masks, even while on the court.
"Obviously, it is not ideal wearing masks during the game," Sorensen said. "But, it's a good idea so we can limit the chances of one of us getting COVID. If one person on our team gets COVID, we are done for two weeks. The season can end at any point, so it's important for us to play every game possible."
Normally, the boys basketball team would take certain preparation procedures for the year. Summer workouts and fall leagues are a few of the things the team would normally participate in to get ready for the season. However, most of that was cancelled this summer and fall.
"The biggest effect was we were not able to work with the guys in the fall, and we had to start tryouts a week after everyone else in the Metro," Fisher said. "There has also been adjustments due to protocol such as how many people can be in the gym and making sure that we are taking appropriate precautions to minimize the risk of anyone being infected with COVID."
Coaches, as well as the players, felt some stress under these new adaptations.
"We didn't get any summer workouts, so we didn't have a lot of time to adapt to playing with a brand new team and coach," Kocher said. "The two weeks of full remote learning put us behind other OPS teams and the rest of the state."
Despite challenges regarding this season with COVID, the team stayed motivated on working hard and growing as a team. They have faced teams varying in talent this year. The Millard North Mustangs are undefeated and ranked first in the state, but the Bulldogs were able to keep up being only a  few points away from the Mustangs during the first half.
"As a team we want to keep building and getting better each day," Sorensen said. "Our ultimate goal is to be playing at our best in the post season with aspirations of making state and winning the title."
Though this season came with many challenges, they have met goals including to make improvements each day. With accumulating wins against Fremont, Millard South, Bellevue East, Omaha Northwest and Bryan, the team is pleased with where they are headed this season and in the future.
"We have a young and inexperienced team but we have big aspirations for the season. Our goals are to get better everyday and improve as a team," Sorensen said.
And ultimately, it's not all about the wins for this team. There is more that comes with it.
"We want to be a successful program in terms of wins and championships, but we also know that the work done to get to that point is the most important factor," Fisher said. "We want our players to have fun and see numerous successes in personal and team achievements.  We want our players to have their biggest successes in the classroom in order to provide them the most opportunities possible when it comes to making their college decision.  We want our players to be the most respectful team in the state as representatives of themselves, their family, our program and our school.  And, we want players to have extraordinary work ethic and courage to fight through adversity.  If our players are accomplishing those things, the success will happen on it's own."