Everything you Need to Know About Record Shopping in Omaha
How I got started
     I started collecting records in March of 2021. It has always been something i've wanted to do but didn't want to buy a record player without much knowledge of where to take care of them or that I would instantly regret my purchase. The thought of being able to turn off all my distractions such and just listen to music was something i've always wanted.
I bought my first record at Walmart picking the two available albums that I knew the most songs off of; Blurry Face by Twenty One Pilots and Astroworld by Travis Scott. The more and more records I started to add to my collection I found that purchasing records that you may only know one or two songs off of can benefit you. It allows you to listen to something all the way through without skipping, an experience I wouldn't normally choose while digitally streaming my music.
What is Record Store Day
 I have to admit the whole experience is truly exhilarating but the aesthetic of the records is definitely a plus. The price is usually determined by the quantity and the pressing of the record. I quickly learned this when I attended my first record store day in July of 2021.
Record store day is an annual event that began in 2007 as a Saturday in April that brings recognition to independently owned record stores. The record stores receive exclusive releases that bring record store collectors from all over together while supporting a local business.
I attended record store day last year at Vinyl Cup Records located in downtown Omaha in the Old Market. We arrived at the store at 4am being 2nd in line with bag chairs and blankets for the cool summer mornings, definitely something we are glad we had for the 4 hour wait.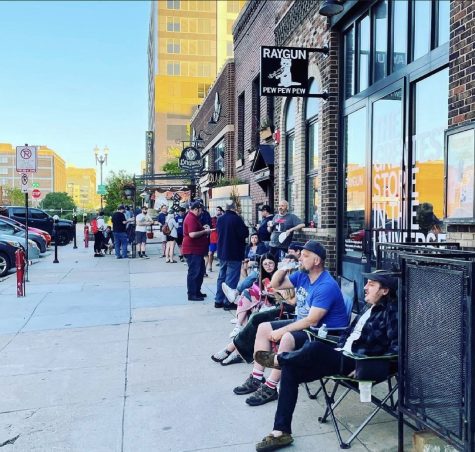 The Record Store Day website ( https://recordstoreday.com/ )  comes out with a list of releases a few months prior, in alphabetical order by artist showing the title of the album the artist and if you click on it it usually will show the cover and what pressing the vinyl will be. With our list in hand we had planned which two records we were on the search for, the Haim "Gasoline" 7 inch and the Ariana Grande "k bye for now (sweeter live)" 12 inch. Knowing what we wanted to purchase made Record store 10 times more easier for us to get in and get out with our desired records.
The important thing to remember is that not every year is the same.
This years record store day was a little different Taylor Swift was chosen to be the official Record Store Day Ambassador. Swift is Record Store Day's first ever global ambassador bringing more more of her fans to record stores. She released "The Lakes" 7inch vinyl this year for record store day in clear pressing with the lakes on Side A and the lakes (original version) on Side B.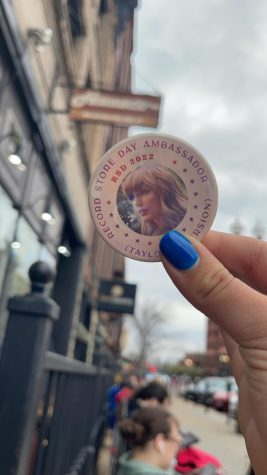 As a Swiftie this was one of my biggest wants for record store day and I set out to Homers at 3am to get in line for the exclusive record. Homers only had 13 copies so being early essential to purchasing Swifts record. We were 8th and 9th in line and were able to purchase the lakes at retail for $16.98 prices have since gone up to around $200 minutes after record stores opened their doors.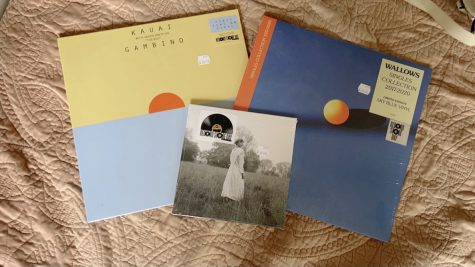 After only collecting for 5 months I learned more about record collecting at record store day than any day. The biggest thing I took from it was that pressings can increase the value of the record tremendously. For example the Lana Del Rey "Lust for Life" record in the coke bottle clear pressing goes for around $500-$1,750 on Ebay but the standard black pressing goes for around $35-$50.
Best Local Record Stores in the Omaha Area
Homers is a local favorite located in the Old Market selling anything from RuPaul candles to records. The atmosphere makes you feel like you're in the basement of a cool collector, full of lots of random cool things that could be worth a lot. As for the music side of things besides records they also sell many used 7 & 12 inch records, cds, cassettes and record players as well. The pricing for this store usually depends on the pressing, but mostly just retail pricing. They come our with new releases every Friday which you can view on their instagram.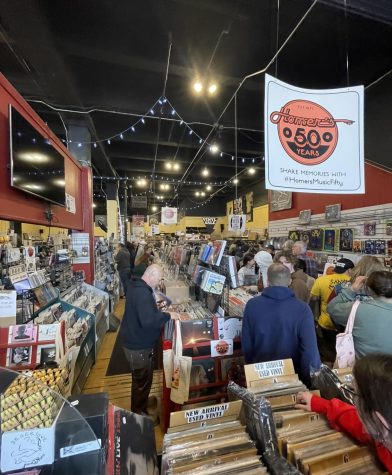 If you are more of a modern type of person who likes open areas Vinyl Cup Records is the place for you. The store is connected to Ray Gun, a clothing store that has sarcastic t-shirts, bags, stickers, magnets, etc. Vinyl Cup only has one genre of music "A-Z" all of their new and used vinyl are separated but are only organized A-Z. For a cozy feel they also have a listening station that allows you to play used vinyl if you'd like to listen before you purchase. Every now and then, local bands come into Vinyl Cup to do signings and performances. They also restock their store 2-3 times per week so it's always nice to see something new every-time you stop in.
Not every record store is located in the Old Market. Recycled sounds is exactly what it sounds like recycled sounds, a place where you can find more used rather than new music. It is important to keep music alive as long as possible and to donate to people you may think can get a better use out of the music and take care of it as well. I've only purchased 2 records from there, both in great condition. The store is very small and for lack of a better word, filled to the brim with records, cds, and posters. The owner of the store have been one of the only employees i've ever seen presently working in the store, but don't let that sway your opinion of him. He is very knowledgeable about music and everything about it, from who's performing in the future and where, to his predictions on new releases in the coming months.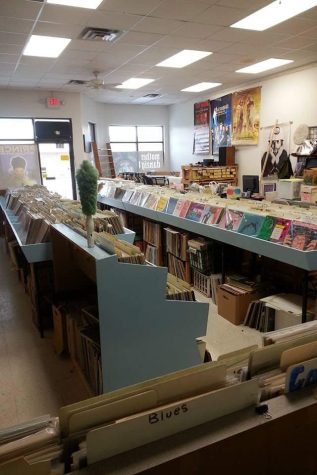 These three record stores are not the only locally owned shops you can go to but some of the most accessible and easiest to find. Although local record stores are the best way to go when shopping for records but there are some corporate ones that are great as well.
Best Corporate Stores to Find Records
      Urban Outfitters is one of my favorite corporate stores to go to because of their limited edition pressings of records.Urban's exclusives tend to accumulate a higher value. For example Dua Lipa's "Future Nostalgia" goes for $22.49 at target but the Urban Outfitters Exclusive goes anywhere from $75-$250. Besides the exclusives they have a pretty wide variety of genres for their small record stand from poems to movie sound tracks to artists you may not always be familiar with, they've got it all. Another huge benefit to Urban Outfitters is their online selection, you have the availability to order records when they are in stock or not in stock for preorder.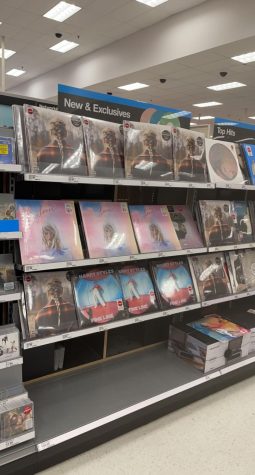 Target is a reliable place to find records, I tend to stop by the records every-time I'm on my weekly Target run. For the most part their records never really rotate with new releases so if you see something you want and need sometime to think on your decision you can always go back and it will most likely be there. They have "Target Exclusives" just like any other place but come at usually a cheaper price. For example Olivia Rodrigos Target Exclusive "Sour" came in a  transparent blue LP and exclusive cover and poster, selling for 24.99 and the urban outfitters original black pressing is just black selling for $27.98 .
Walmart is probably not your first place to go when shopping for records but you may stumble upon a good find when you least expect it. The set up is definitely unorganized with mixed genres and artists but it forces you to look more in depth within the stand. Out of all of the corporate stores they probably have one of the most unique selections.
Overall Advise
My advise to anyone who wants to get out there and start collecting is to just do it. Branch out, do your research, meet fellow record collectors to find a sense of community. When it comes to starting your collection make sure to look up resell prices before buying from retail, but make sure you are buying your records because you like them not because of the value.
Leave a Comment
About the Contributor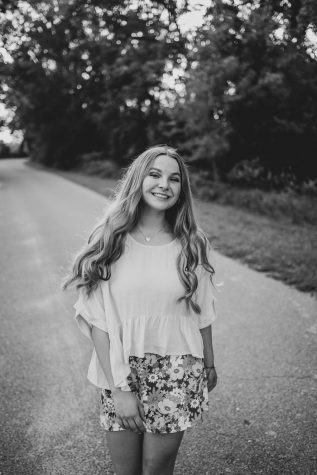 Lydia Hernandez, Media Day Editor
Hiii! ☻My name is Lydia Hernandez I am a senior here at Burke and this is my 3rd year on staff! I am the media day coordinator here at Burke and my favorite...