Sign language club returns
Inclusion is top priority for Eichler
Walking down the halls, especially during passing period can be very loud and overwhelming, but for others, it's dead silent.
The school has eight deaf and hard of hearing students. To unify the hearing and hearing impaired, deaf and hard of hearing teacher Jane Eichler decided to bring back a club that has been missing for 12 years—Sign Language Club.
Eichler has gathered two of her interpreters, Kelsey Stearns and Lynette Jedlicka, along with four of her deaf students, senior Joshua Acosta Contreras, freshman Joann Aguilar Guillen, junior Melissa Majia and sophomore Leo Gomez to help with the new sign language club.
Multiple flyers were placed around the school, ea
ch with a QR code that gave students a chance to sign up for the club that plans to have meeting once a month in the cafeteria during advisement.
"There have been many clubs in the past, but it was way before my time," Eichler said.
Eichler has been trying to start the club for the past year but has faced many issues in doing so, leading to the dismissal of the idea.
"Trying to do an after-school club proved to be kind of difficult because of transportation issues," Eichler said.
This year she gave it another shot. Eichler has found multiple students, hearing and hard of hearing or deaf, who are excited to join the club. Freshman Teddy Dunning, a hearing student, is one of those students.
"I have a few deaf friends and I think it'd be nice to communicate with them," Dunning said.
The club's goal is to spread awareness of the deaf community and to teach students how to communicate with the deaf and hard of hearing. American Sign Language (ASL) is a common form of communication that is used throughout the country. According to the State of Rhode Island Commission on the Deaf and Hard of Hearing, about 500,000 people use ASL to communicate as their native language. Eleven of those people are Burke Bulldogs.
"I would say I would prefer both [speaking and signing] because I grew up with being able to talk and do sign," Aguilar Guillen, who is hard of hearing said.
Eichler feels that making deaf and hard of hearing students feel included is important for the student.
"I think it's important for it to be taught because these students do communicate in a different way, which sometimes leads them to feel a little bit isolated from their grade level peers," Eichler said. "So, if more people could, you know, at the very least say hi or goodbye or my name is, that just makes them feel more included and more a part of the group."
View Comments (1)
About the Contributor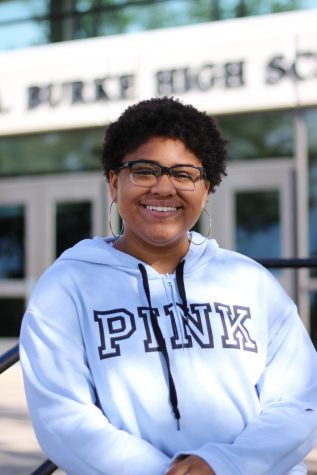 Roslyn (RJ) Wells, Reporter
Freshman Roslyn (RJ) Wells brings some journalism experience to the Burke Beat staff as she was a reporter for the Alfonza W. Davis newspaper club. In...