Senior photo deadline approaching quickly, yearbook staff offers their help
One of the many privilege's seniors receive as they enter their last year of high school is the option to choose their school portrait in the yearbook. As the Dec. 1 deadline approaches, seniors can send in their favorite professionally taken senior photo for their peers to see in the back of the book. 
However, there are certain guidelines that need to be followed to make sure the photo is appropriate and high quality. The rules for submitting an approved photo can be found in this link: Senior Yearbook Information.
These guidelines were created by yearbook adviser, Angela Wolfe, to ensure only the highest quality photos are published in the book, while still allowing seniors to display their desired portraits. 
"The only reason we have ever turned down a photo is because there was a prop in the photo or because we couldn't see the senior's face," Wolfe said. "But we are not that picky when it comes to the actual background or anything like that." 
The yearbook staff is aware that not all seniors have scheduled their photo sessions before the December 1st deadline. Arrangements were made to accommodate all the students, in hopes of allowing more kids to participate. Senior photo editor, Sophia Mills, is offering $10 senior photo sessions for students who want professional photos taken. The session takes place at Burke in a location of the seniors choosing and they will receive 10 photos. From there, the senior will be able to choose which photo they wish to be placed in the yearbook. To schedule a last minute photo shoot with Mills, email her at [email protected].
"I enjoy taking senior photos because I am able to help fellow students," Mills said. "Since I am a photographer that is close to their age, I can capture them in a way an older photographer couldn't. I know the techniques the professionals use but being in the same school as them automatically creates a connection between us." 
In years past, there has been great participation and feedback from seniors who have turned in their personal photos. The more senior photos that are turned in create more interesting pages to look through in the yearbook. Instead of each headshot being on the same background, there are unique portraits of each senior.
If the photo follows guidelines and is turned in by Dec. 1, the photo is certain to be seen in the yearbook. 
Leave a Comment
About the Contributor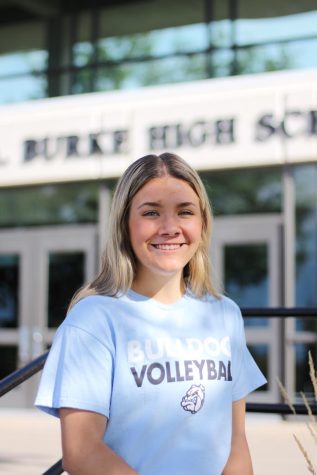 Erin Carlson, Design Editor
Erin Carlson is a senior and a first-year design editor for the Burke Beat. Erin is also the design editor and editor in chief of the Burke Book but is...