Juniors prepare to take the ACT
All juniors in OPS will take the ACT (American College Test) on April 4. The test will start at about 7:50 a.m. conclude around 11:30 a.m. that day and there will be no school for any other grades.
Although some colleges no longer require an ACT/SAT score for admission, taking the test is still encouraged by Omaha Public Schools to meet state testing requirements. If students choose not to take the ACT, they will have to take a Nebraska Student-Centered Assessment System (NSCAS) alternate exam.
Juniors will be or have already been given four documents to fill out in advisement. These include an early release form in order to be let out of the building immediately after the test; a permission sheet required to have your scores sent to colleges and a MyACT log-in instruction sheet. These papers should be turned into advisement teachers.
While there will be no school this Friday due to Parent Teacher Conferences, there will be a free review session held at school from 9 a.m.-12 p.m. hosted by English teacher Kristi Bryant. Students can register using the QR code posted around the school. Many junior leveled classes will also be doing ACT prep in the upcoming weeks.
The test students will take includes a writing portion that is scored separately from the composite score and is typically optional although the first time juniors will take it, it is required. It's graded on a different scale than the rest of the test as well, from 1-12 instead of the regular 1-36.
The main ACT, aside from the essay includes four sections: reading, english, math and science. Students will take the english and math tests first, have a break, take the science and reading portions, have another break then continue on to the writing. The math test is 60 questions with 60 minutes to complete, the english test is 75 questions with 45 minutes to complete, the reading test is 40 questions with 35 minutes to complete and the science test is the same.
Bryant's review session will help students prepare for the timing and questions on the test.
"The review session will include all sections. We'll talk about strategies students can use to approach the different sections of the test, and we'll practice the most common types of questions that are found on each of the sections," Bryant said.
Although the math and English tests are notoriously known as the hardest, Bryant says that it depends on the student.
"On a test like the ACT, what's hard or easy really depends on the individual," she said. "Most people will have one or two parts of the test that are more comfortable for them and other parts that are more challenging. There are often also types of questions that are more comfortable or "easier" for people. During the review session we'll talk about types of questions and how students can be strategic in their approach to the different sections."
On test day, it's important for students to come to school prepared both mentally and physically to take the three hour long test.
"It's really important for students to be well rested and well fed the day of the test. It also can be useful to take a practice test to get a feel for the timing of the test. But don't stop there, look at any mistakes you made on the practice test and try to find patterns or common errors. Then you can work on getting better at those specific skills," Bryant said. "Practice is good, but thoughtful practice is better."
Some students aren't thrilled about taking the test. Many colleges made their applications test optional after the pandemic postponed testing in 2020. One student that feels this way is junior Taleigha Archie.
"The ACT isn't a main focus for most colleges so I don't think it's super necessary to take," Archie said. "I think it should be optional for people that feel like they need to take it for their own reasons or dream colleges."
Leave a Comment
About the Contributor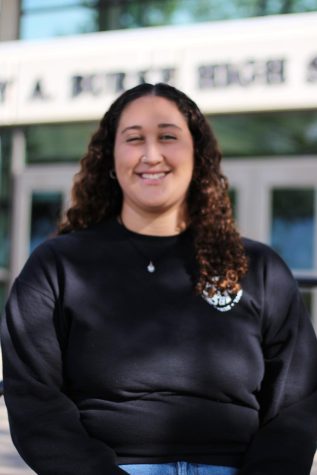 Kaitlyn Lisko, Editor
Junior Kaitlyn Lisko is an editor for The Burke Beat, this is her second year on staff.  She takes pride in journalism and says it has been a hobby of...