Mollie Tibbetts death strikes concern in young women
On July 18th, 2018 University of Iowa student Mollie Tibbetts disappeared and was missing for an excruciating 33 days before the eventual discovery of her body on Tuesday, August 21st, 2018. Tibbetts went missing while dog sitting for her boyfriend who had left town just a day before. She decided to go for a run which would eventually be where Cristhian Rivera, her killer, abducted her. She was set to be the maid of honor in her boyfriend's brother's wedding and her boyfriend had joked of proposing to Tibbetts that day. Tibbetts is one of many young adults that have gone missing in the Midwest area raising concern to both parents and students alike. Throughout the 33 days of her disappearance social media exploded sharing thoughts, prayers, and exposure of Tibbetts disappearance. A Facebook group and a fund began to help find information on her disappearance and the fund began at $1,000 and eventually skyrocketed to $300,000. Mollie Tibbetts has brought together the area in concern and mourning sparking discussions and controversy.  
Controversy over her killer's legal status has sparked discussion as well with President Trump's plan to build a wall and forcing out illegal immigrants. But being a killer should have no correlation with being an immagrant.  Tibbetts family has asked that politics do not get involved with Mollie's disappearance, "I don't want Mollie's memory to get lost amongst politics" said her aunt. Rivera's bond was set on August 22nd at $5 million, cash only. His next bond was on August 31st. When he retells the story of Tibbetts murder he claims he remembers her taking her phone out stating that she was going to call the cops which angered Rivera, putting him into a "black out" state before he realized he had put her in the back of his car opening it to find her covered in blood. 
On August 22nd a vigil was held in Mollie's honor at the University of Iowa where she went to school. Her family released a statement that day saying, "Our hearts are broken. On behalf of Mollie's entire family, we thank all of those from around the world who have sent their thoughts and prayers for our girl. We know that many of you will join us as we continue to carry Mollie in our hearts forever. At this time, our family asks that we be allowed the time to process our devastating loss and share our grief in private. Again, thank you for the outpouring of love and support that has been shared in Mollie's name. We remain forever grateful."  
Mollie Tibbetts disappearance has continued to concern many young women as sex trafficking and harassments skyrocketed in the past few years. Keeping our keys between our fingers and on high alert when walking to our cars is something every girl knows. No longer are the days of being able to go anywhere alone. Seeing a face of a young woman on a missing poster seems normal these days. Today's toxic masculinity has shown that many men no longer able to take no as an answer and girls are forced to keep pepper spray on their keys and recommend self-defense classes to their friends. The constant fear that we might get picked up at the mall or even a grocery store lives inside every woman and should not be something we should have to feel. I want to be able to go get groceries or even just leave my house without feeling like I need to bring a friend, or the very least my taser.  Mollie Tibbetts' disappearance should be a reminder to women that the world is not safe, not that we did not know that.  
About the Writer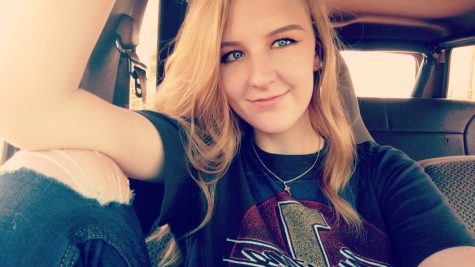 Grace Martis, Newspaper
Hi :) my name is Grace and I'm a senior at Burke. This is my first year of newspaper. I love fall, Halloween, and my cats.