Mt. Crescent: Perfect sledding destination
During the winter season, sledding, skiing, and snowboarding are popular activities for all ages. However, the Omaha metro has no local ski resorts for these winter sports. Just across the river in Iowa, there is spot to do all of these things. Mt. Crescent, located in the Iowa Bluffs, is just 15 miles northeast of Omaha.
Mt. Crescent was opened in 1961 with the helped of famous Olympian gold medalist skier, Stein Eriksen. Mt. Crescent provides a variety of slopes for new or experienced skiers. Besides skiing, there is snowboarding and sledding available. They have private ski or snowboarding lessons available, and there is always snow on the mountain, thanks to the snowmaking machines. It is open from December to March.
Last winter, my family and I made the drive to Mt. Crescent to test out the sledding portion of this resort. We didn't know what to expect, as we had never been before and we didn't know how big the mountain would be. When we arrived, we were pleasantly surprised by how established the resort was. Unlike other skiing resorts, this had more of an amusement park feeling, as there was no lodges or rooms available to rent. It did contain the Mountain Café and Bar, outside fire-pits, and seating areas until your next run.
You don't need to bring your own sleds to Mt. Crescent, as they have sleds for rental. All that's suggested to bring is winter attire, especially snow pants because when you're sledding down the hill, snow is blowing right up you. You do have to make reservations for sledding to ensure there's enough sleds for everyone. Once we picked up our sleds, we made it outside, where we stood in line to get on the ski chair lift. It was very much appreciated, as the sledding course was over 3 football fields long.
After the ski lift, we followed a trail leading to the entrance of the sledding area, where we once again sat on sleds, waiting in a line. Three to four people were allowed down the hill at one time, so the wait went fairly fast. As we waited, we watched the people before us go down and we had no idea how fast you went down until that moment. Riders were sledding down this hill, going at least 10 miles per hour. When it was our turn to go, we made it a competition to see who could get down the fastest.
It was the best sledding experience I have ever had. The compacted snow allowed you to go fast and steer the sled correctly to avoid collision. Getting down the hill is worth the waiting, as it takes about 30 seconds to get to the bottom from the top, even with the high speeds you're going at. Once we were done with our first run, we did it again three more times, getting better each time. You don't even realize the time that has gone by because it's so much fun.
Pottawattamie County has gained ownership of the ski resort this year and its now in the works of being a part of a new nature center opening soon. With this change, it's in the works that the state is going to make the resort available for all four seasons.
Mt. Crescent is a great family activity. There's minimal risk for injury, at least with the sledding portion, and is fairly priced. The location is very convent and there is no pressure to be an expert about any of the activities available.
Leave a Comment
About the Contributor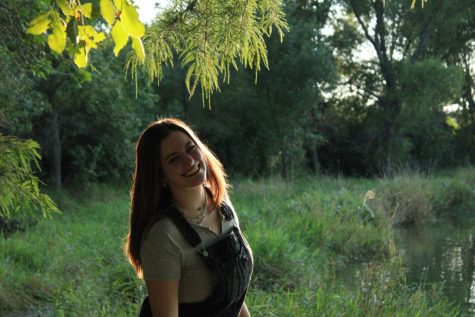 Kayla Doll, News Editor
Hey! I'm Kayla and I'm a senior at Burke High School for the 2021-2022 school year. This is my third year on staff and I'm really excited to work with...