Senior swimmer breaks 27-year-old record
In 1995, Burke High School swimmer Leah Abraham set the school record for the 100-yard breaststroke event with a time of 1:07.85. That record would stand for 27 years. But this year, that record was broken not just once, but four times within one season by the same swimmer, Burke girls swimming captain Carly Kendeigh.
Kendeigh first beat the school record early in her senior swim season and continued to break her own record multiple times by the time her swim career ended at the NSAA state swimming championship on Feb. 26. Her final state swim meet ended with a third place medal and spot on the state championship podium. The new Burke 100-yard breaststroke record now stands at 1:04.63, 3.22 seconds faster than the old record.
Kendeigh originally beat the school record time in November of 2021 while at a club swim meet in Iowa. But, because this swim meet was not for Burke or within the high school swim season, it did not count. Carly had to continue training throughout the high school season, and she officially broke the 100-yard breaststroke record at a meet in Fremont on Jan. 11 with a time of 1:06.79.
"The moment I first broke the record time was unbelievable," Kendeigh said. "The next few months were spent training to break it again, this time for the official record. After seeing I had broken the record for a second time by a full second, it felt even more exciting than the first time. My coaches were jumping and cheering, and it felt like all my hard work had paid off."
The breaststroke is the second event Carly broke a record for in her four years on the swim team. Last season, Kendeigh and her teammates, Ella Frisbie, Maris Grabill, and Wesley Hill, broke Burke's 31-year-old record for the girls 200-yard medley relay.
"Breaking a relay record is such a unified and connected feeling with the girls in the relay," Carly said. "In the individual record, the weight of breaking the record lies completely on one set of shoulders. While both are such an incredible feeling, breaking the individual record this year was an amazing opportunity to prove to myself that all the training was worth it."
After breaking the original record in January, Kendeigh beat her own time two more times at the Metropolitan Conference Meet, once during prelims with a time of 1:05.92 and again during finals. Going into the state meet on Feb. 25, Carly's record stood at 1:05.70. At state, Carly beat her record once more in her prelim race with a time of 1:04.63, a full second faster than her previous time.
Mark Ramet, one of the Burke girls swim coaches, has been coaching Carly since she was 8-years-old on her summer recreational swim team and has watched her continuously drop time over the years.
"Sometimes as coaches we get to see things that make our jaws drop," Ramet said. "This year we have had the chance to see it more than once since Carly seems to want to break the record a few times. Seeing a record fall is amazing, but seeing the face of the swimmer that looks up and sees that they have accomplished something special sticks in your memory forever."
Throughout her time at Burke, Kendeigh has not only proven herself to be a fast swimmer, but she has been described as a supportive teammate and a team leader. She has been a team captain of the swim team for the past two seasons and is often pictured cheering and hugging competitors after racing against them.
Carly's mother, Wendy Kendeigh, has seen Carly grow as both a swimmer and a leader throughout her high school career.
"If the best thing your teammates can say about you is that you swim fast, you missed out on the important part of the sport," Wendy said. "How you treat your teammates says more about you than any medal, time, or record."
This season has been one of the most special years to Carly, as it is her final year as a competitive swimmer. She is not planning to swim in college, so this season was her last chance to set her best times. Carly's father, Andy Kendeigh, got to watch his daughter take to the pool for one last season this year and break multiple record times along the way.
"I think this year has been special since Carly has had such a rewarding season," Andy said. "It's been incredible watching her improve so much during her high school career."
Carly's time in the 100-yard breaststroke has dropped by over eighteen seconds since her freshman season on the swim team. Carly credits consistent practice, efficient coaching and a supportive team environment for this significant time drop.
"If I could give my freshman-self advice, it would be to believe in myself and always take feedback from your coaches and teammates," Carly said. "Everyone involved in Burke swimming wants you to succeed. Allowing them to help you will make you grow stronger and faster. Having that support system of other people who believe in you will help you feel so much more confident in yourself."
Leave a Comment
About the Contributor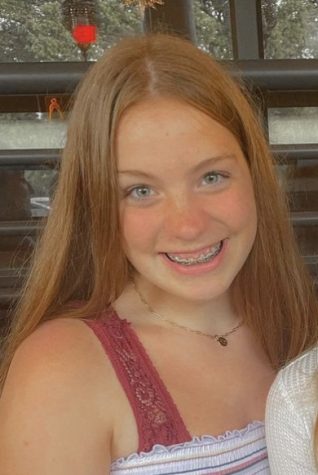 Sammy Kendeigh, Reporter
Hi! I'm Sammy and I'm a sophomore. This is my first year on the journalism staff, and I'm so excited for this year! I am on Burke Dance Team and love to...