Local Business Review: Made In Omaha
Around the Metro, there are many locally-owned businesses. One of those businesses is a boutique, Made in Omaha. Established in 2018, Made in Omaha highlights local artists and creators throughout the Omaha area. The business benefits small companies to reach more customers and have a greater impact to the arts community in Omaha.
Even before the pandemic, shopping local has been vital to allow smaller businesses to bring in revenue. However, since the pandemic began, local businesses have been hit hard, many closing up shop permanently. This has meant that many local artists and creators have had to forgo their passions in order to get by.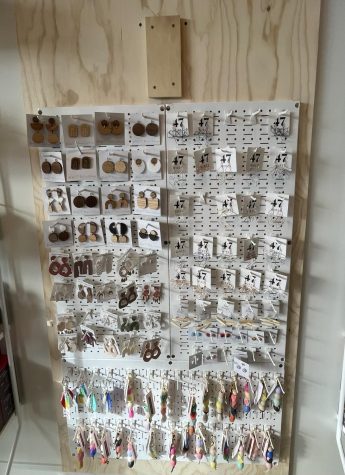 Made in Omaha's passion to support the Metro is very apparent when entering any one of the three locations.
Upon entry to the Made in Omaha store in Countryside Village, there's a sense of familiarity. It makes sense, as you are in a store that is plastered in Nebraska gear. There's accessories, apparel, food and drink items, stationery, and much more. It's clear to anyone visiting the store that there's a lot of love and care put into all the products for sale. Made in Omaha has done a great job creating showcases for the artists' works, making the shop very homey and welcoming.
There's a wide selection of goodies for customers to pick. There's a dog section where dog treats, bow ties, and other pet companion accessories are stored. A wall full of different prints of art are on display, a lot of the art involving Omaha in some way (mainly highlighting different towns or attractions of the state). There's apparel taking up the main space of the shop, with numerous tops having to deal with Omaha in some way (there's always a shirt saying something about corn, of course). As far as food products go, there's sweets, spreads, salsas, and spices available for purchase. Coffee beans, tea packets, pickled vegetables are also available thanks to local farmers.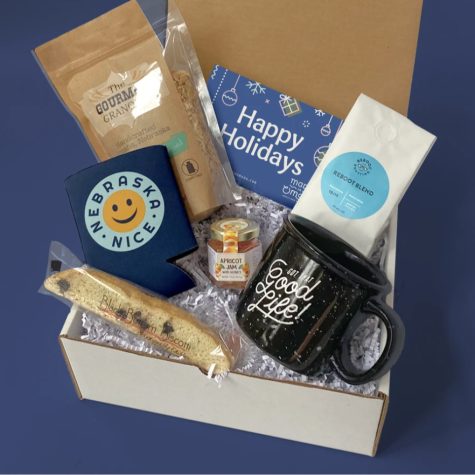 The store is great for anyone looking to buy Nebraska gear or to buy gifts. During the holiday season, the business has pre-made gift box sets for sale. There is also an option to build your own gift box set and select from four different themes: foodie, housewarming, apothecary, and a customization option.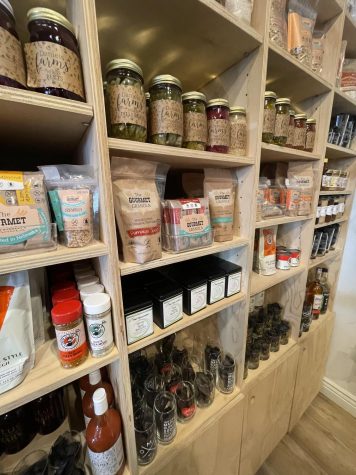 During my latest visit at Made in Omaha, I didn't know what I wanted to buy upon going in. With the holiday season being so close, I was looking for possible gifts for my family. I was tempted to buy the Meraki Montessori Snowflake DIY Kit as it looked like a fun craft and was a cute wooden ornament. I also looked at the dog treats which they were so adorable. They were shaped as different pop culture references like Star Wars and Omaha attractions like the T.D Ameritrade Park. I then looked through all the jewelry and was very tempted to buy a few pairs of wire earrings. However, what I decided on was a new sweatshirt, unsurprisingly for me. It's a simple gray sweatshirt, with "Nebraska," in red on the upper-left side of the clothing. This was perfect, seeing as I'm attending Lincoln this coming Fall.
Overall, I love this business and what it stands for. It is a bit more pricey than your average goodies, but it's worth it knowing that the profits are going back into the community and supporting local creativity. I would recommend visiting any one of the locations for those looking to rock some trendy Nebraska gear and help the community.
Leave a Comment
About the Contributor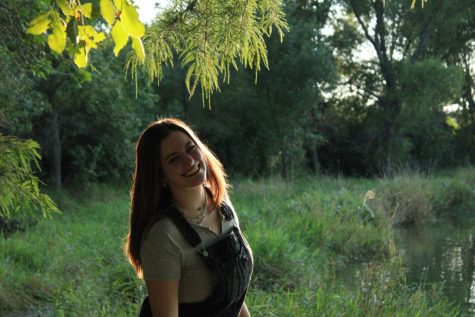 Kayla Doll, News Editor
Hey! I'm Kayla and I'm a senior at Burke High School for the 2021-2022 school year. This is my third year on staff and I'm really excited to work with...